Host Server Water Cooler
This product is our newly designed water-cooled plate-fin heat exchanger, which is aimed at various server-related companies around the world.
Advantages: quiet, water-cooled self-circulation, good heat transfer performance, compact structure, high efficiency internal fin design and staggered heat transfer design, can be customized for different heat source import and export positions, easy installation, corrosion resistance.
Applications: Service manufacturers for different powers, IT companies, servers for large Internet companies, monitoring server manufacturers, big data storage company servers, etc.
Market case: At present, we have a large number of mature and stable supply to North America, Canada, the United States, Australia, Germany and other countries.
If you want to know more about the products, please send us the consultation information, we will serve you as soon as possible.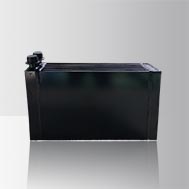 Request Catalogue
Request Tech Details
If you have any doubts about the product, please feel free to contact us by phone or email us. We will provide 7*24 hours service, sincere thanks.
inquire@zhcooler.com
+86 15603820837