Power Controller
Introduction
The switch is mainly composed of a temperature sensor and a relay. When the temperature of the heat exchanger reaches the rated temperature of the thermostat, the thermostat sends a signal to the relay so that the relay can be turned off to protect the heat exchanger effect.
Product Parameters
Key Features:
1. Two kinds of sensors cooperate with each other, work more accurately;
2. Automatic control, better protection of heat exchanger;
3. Low cost, can be used repeatedly, easy to replace
4. Can be controlled manually over long distances.
5.Optional 12v/24v/220v/380/440v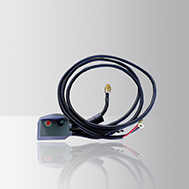 Request Catalogue
Request Tech Details
If you have any doubts about the product, please feel free to contact us by phone or email us. We will provide 7*24 hours service, sincere thanks.
inquire@zhcooler.com
+86 15603820837