Hydraulic Motor Fan Bar Plate(Plate-fin) Heat Exchanger
Introduction
Hydraulic Motor Fan Bar Plate(plate-fin) Heat Exchanger Series
Features:
Aluminum bar plate fin structure, coupled with high-performance hydraulic motor and high-strength fan leaves, can be in a complex working conditions for a long time to work.
Application:
Hydraulic system return line, lubrication system, variable pump drain line cooling.
Construction machinery (cranes, pumps, rotary drilling rig), ship metallurgical and mining machinery and other hydraulic circuit cooling.
Technical Parameters:
The displacement of the motor in the table is for reference only and can be adjusted according to the actual working conditions and requirements.
Motor in and out of the oil is bidirectional, the standard configuration for the suction type.
The maximum pressure of the outlet port: 120bar The maximum pressure of the drain: 2bar
The noise value is a value at a distance of 1 m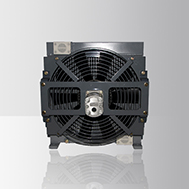 Request Catalogue
Request Tech Details
If you have any doubts about the product, please feel free to contact us by phone or email us. We will provide 7*24 hours service, sincere thanks.
inquire@zhcooler.com
+86 15603820837